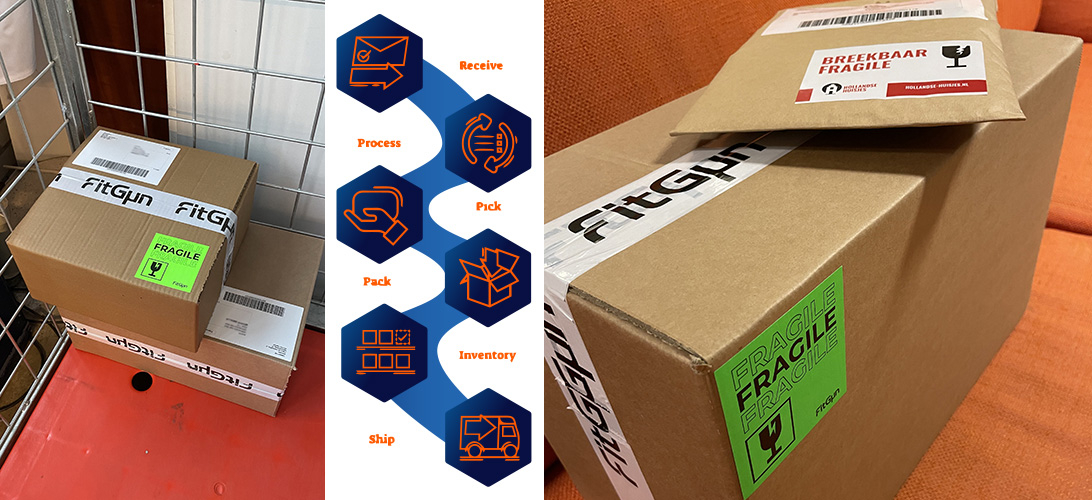 Succes van pilot voor e-commerce fulfilment
Succes van pilot voor e-commerce fulfilment
03/28/2022
fulfillmente-commerce logistiekverzendplatform
Het is een maand geleden dat we onze pilot voor fulfillment services zijn gestart. Het eerste fulfillment centrum van VrachtDeal is gelegen in het hart van Haarlem Business Park Waarderpolder. De centrale ligging zorgt voor een snelle en accurate afhandeling van bestellingen en retouren voor onze klanten. Tussen onze eerste klanten mogen we FitGun.nl en Hollandse-Huisjes.nl verwelkomen.
Als fulfillment bedrijf zorgen wij ervoor dat elk pakket zorgvuldig wordt verpakt en zijn eindbestemming bereikt. Wij adviseren klanten om elk besteld artikel te voorzien van een zorgvuldige verpakking of geschikt verpakkingsmateriaal, zodat de ontvanger van de webshop de beste ervaring heeft bij elk geleverd pakket.

Ons verzendplatform biedt de mogelijkheid om direct een fulfillment verzoek in te dienen via een vrachtdeal. Onze fulfillment diensten zijn gebaseerd op de fulfillment software die compleet in eigen huis is ontwikkeld. Specialistische wensen van onze e-commerce klanten passen hierdoor eenvoudig binnen het logistieke proces.

Wat is Fulfillment?
Fulfilment in de e-commerce business betekent een proces van alle stappen om een bestelling aan de koper te leveren. Het gebruik van een fulfilmentpartner betekent om het logistieke deel van het verkoopproces en het soepele bestelproces van online zaken te stroomlijnen. Een fulfilmentbedrijf, zoals VrachtDeal.nl, is normaal gesproken ook een onmisbare e-commerce logistieke partner voor e-commerce en biedt een scala aan diensten die draaien om het gereedmaken van bestelde producten voor levering. Bijvoorbeeld een magazijn om de voorraad op te slaan, track en trace van levering, voorraadbeheersysteem, integratie van meerdere verkoopkanalen, geautomatiseerde fulfilmentsoftware, rapportage en nog veel meer. Er kan worden gesteld dat geautomatiseerde uitvoeringssoftware u helpt uw verkoop met een aanzienlijke marge te optimaliseren. De fulfilmentservice is een must voor retailers die hun online bedrijf of webshop willen opschalen.
Afgelopen maand heeft VrachtDeal kunnen bewijzen dat we naast onze logistieke dienstverlening ook een betrouwbare fulfillment partner zijn. We hebben een directe koppeling met WooCommerce, Magento en Bol.com. Als VrachtDeal klant kunt u een aangepaste track-n-trace e-mail en pagina voor de klant instellen. Onze specialisten kunnen u helpen met implementatie- en technische vragen. Wij maken gebruik van VrachtDeal WMS (Warehouse Management Systeem) en kunnen tijdig lage voorraden van producten en verpakkingsmaterialen aangeven.

Voor zendingen binnen Nederland en België hebben wij de scherpere fulfillment tarieven. Naast onze leveringen binnen en buiten Europa kunnen wij hybride e-commerce logistieke oplossingen aanbieden. Binnen ons fulfillment centrum kunt u een deel van uw zendingen zelf regelen en beheren wij een deel van uw voorraad en processen. Uw voordeel is dat u alles via één systeem kunt aansturen en regelen. Onze fulfillment software is ontworpen om te werken met multi-tenant e-commerce klanten. Als eigenaar van meerdere webshops helpt ons WMS u om uw voorraad en zendingen op één plek te administreren en plannen.

VrachtDeal is de perfecte fulfillment specialist voor fulfillment van kleine webshops en grote e-commerce klanten. Laat u ontzorgen met de fulfillment oplossingen en het verzendplatform van VrachtDeal. Neem contact met ons op en versnel de groei van uw e-commerce bedrijf.

Neem contact met ons op